World Precision has been deeply involved in the field of automation in the electronics manufacturing industry for many years, and has been committed to designing, assembling, testing and delivering high-quality automated intelligent equipment and systems for customers. World Precision fully investigates the needs of customers in the electronics industry, and independently develops laser solder ball welding machines to help customers improve work efficiency, improve product yield, reduce operating costs, continuously improve customer market competitiveness, and cooperate with customers for a win-win situation.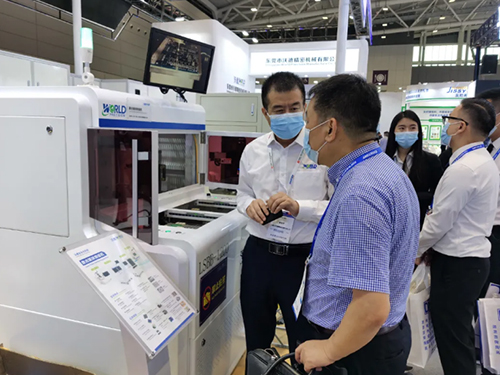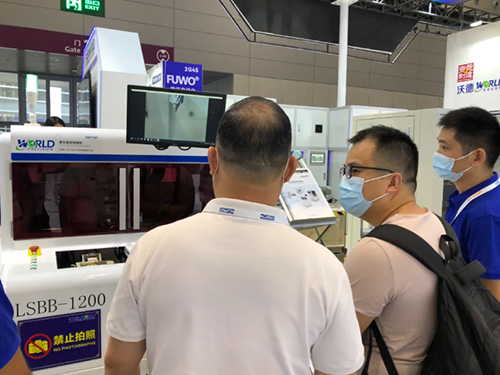 On October 20, 2021, World Precision Laser Solder Ball Welding Machine made a new appearance at the NEPCON ASIA 2021 Asian Microelectronics Exhibition, attracting many friends from enterprises in the electronics field to watch and come to discuss and exchange.
Laser solder ball welding
What kind of new welding technology is it?
Xiaobian gives you a detailed explanation
Laser solder ball welding is essential in the electronics manufacturing industry
The electronics industry is a national strategic development industry. Nowadays, the stock market space of the consumer electronics industry is still huge; on the one hand, personal computers, tablet computers, and smart phones have all begun to enter the Red Sea competition pattern, which will be followed by breakthroughs in technological innovation of their respective products, which will bring New technological applications and process changes.
In addition, with the further innovation of technology, a number of new products have emerged in the field of consumer electronics. Wearable devices represented by smart watches and smart bracelets, AR/VR, consumer drones, etc., these emerging consumer electronic products are developing rapidly. In 2021, the scale of my country's electronic information manufacturing industry has exceeded 15.5 trillion yuan, and it will maintain a relatively high growth rate in the next few years.
China's electronic information
manufacturing industry in 2020-2025
Market size (trillion yuan)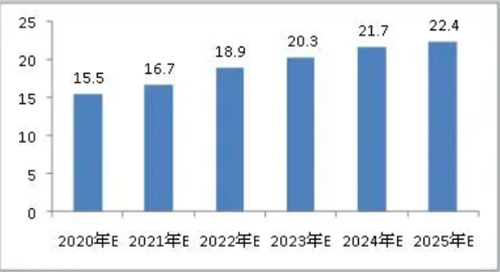 With the full penetration of 5G communication technology in the field of electronic technology and the promotion of market demand, the 3C product manufacturing industry will develop rapidly. Opportunities and challenges coexist, interests and risks coexist! Stimulate innovation and innovate the manufacturing industry to develop towards a more refined, faster and higher technical level.
Laser soldering technology brings more development space to the electronics industry
With the refined, thin, short, small and differentiated development of electronic components, the traditional process has become more and more unable to meet the needs of ultra-fine and miniaturized electronic substrates and multi-layer point parts welding. Laser soldering has gradually become a new technology to make up for the shortcomings of traditional welding processes with technical advantages such as "non-contact welding, no static electricity, and real-time quality control", and has been widely used in the industry.
A New Soldering and Mounting Process - Laser Solder Ball Welding
As a brand-new soldering and mounting process, the solder ball soldering process has great technical advantages for the soldering of components with small pads and dense spacing compared with the traditional soldering process. Solder ball welding is a new type of soldering technology that uses high energy density laser heating to melt solder balls to achieve circuit connection.
Laser Solder Ball Bonding Machine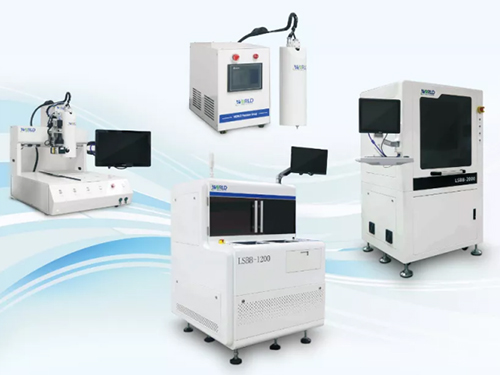 Technical Features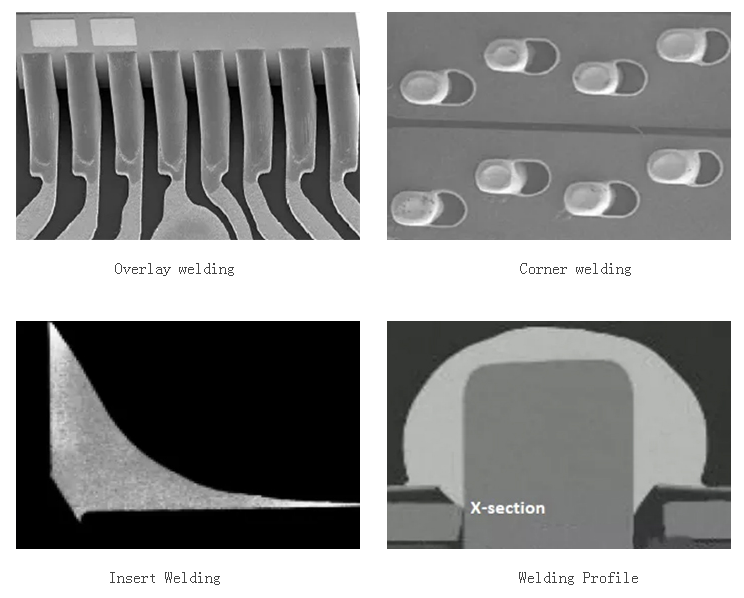 Lead-free
Flux-free
Clean-free soldering
No touch soldering
Low thermal stress
Fine pitch soldering
High effective clean
High speed & high efficiency
Stable & reliable in quality
Smooth & consistent in appearance
Application field
The laser solder ball welding technology, which integrates many advantages, has been widely used in the manufacturing industry in the field of 3C consumer electronics. These include smartphones, laptops, tablets, camera modules, wearable devices (smart watches, TWS Bluetooth headsets), smart home appliances, 5G communication products, sensors, etc.

Wafer Level CSP Packaging
CMOS sensor
Single chip BGA package
camera voice coil motor
camera module
Hard drives (HGA, HSA, hooks, spindle motors)
MEMS components, sensors, 3D component packaging
Optical Devices & Micro-Optoelectronic Devices Laser Soldering
Filter elements (acoustic filter, bulk acoustic filter, film cavity acoustic filter)
Gold finger, FPC laser solder and all kinds of wire welding, thermal components
5G Card & 5G Antenna Laser Soldering
technical parameter
01 Laser solder ball welding machine LSBB-1200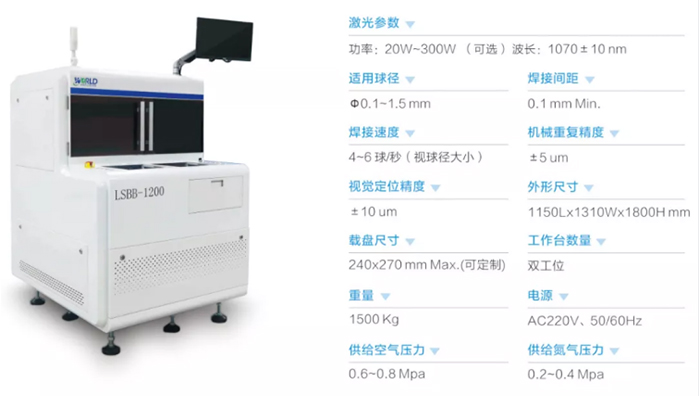 02 Laser solder ball welding machine LSBB-2000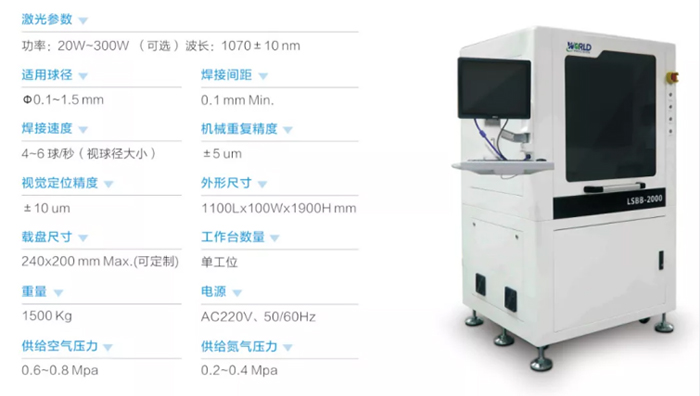 03 Laser solder ball welding machine LSBB-3100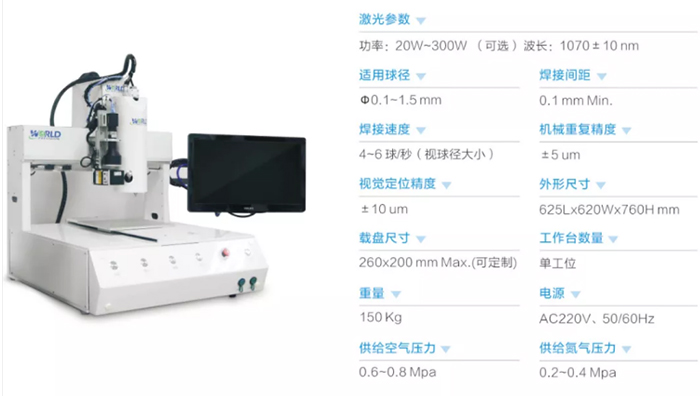 04 Laser solder ball welding machine LSBB-1200